Say goodbye to Masks or MADs – Say hello to daytime therapy.
eXciteOSA® for sleep apnoea delivers NMES therapy and has been clinically proven to reduce sleep apnoea. Use for just 20 minutes a day, every day for six weeks, to improve the quality of your sleep.1-2
Clinically proven daytime therapy. Nothing to wear at night.1-2
Try today with our sleep guarantee
If you do not notice improvement after 6 weeks, return your device for your money back*
There are 4 common types of clinically proven treatments for Mild OSA
Three of them open up or create space in the airway. The fourth, NMES, does something unique.
Uncomfortable. Difficult to tolerate
Mandibular (jaw) Advancement Device works by temporarily moving the jaw forward. CPAP machine pumps air at pressure into your upper airway.
Invasive. Variable Results3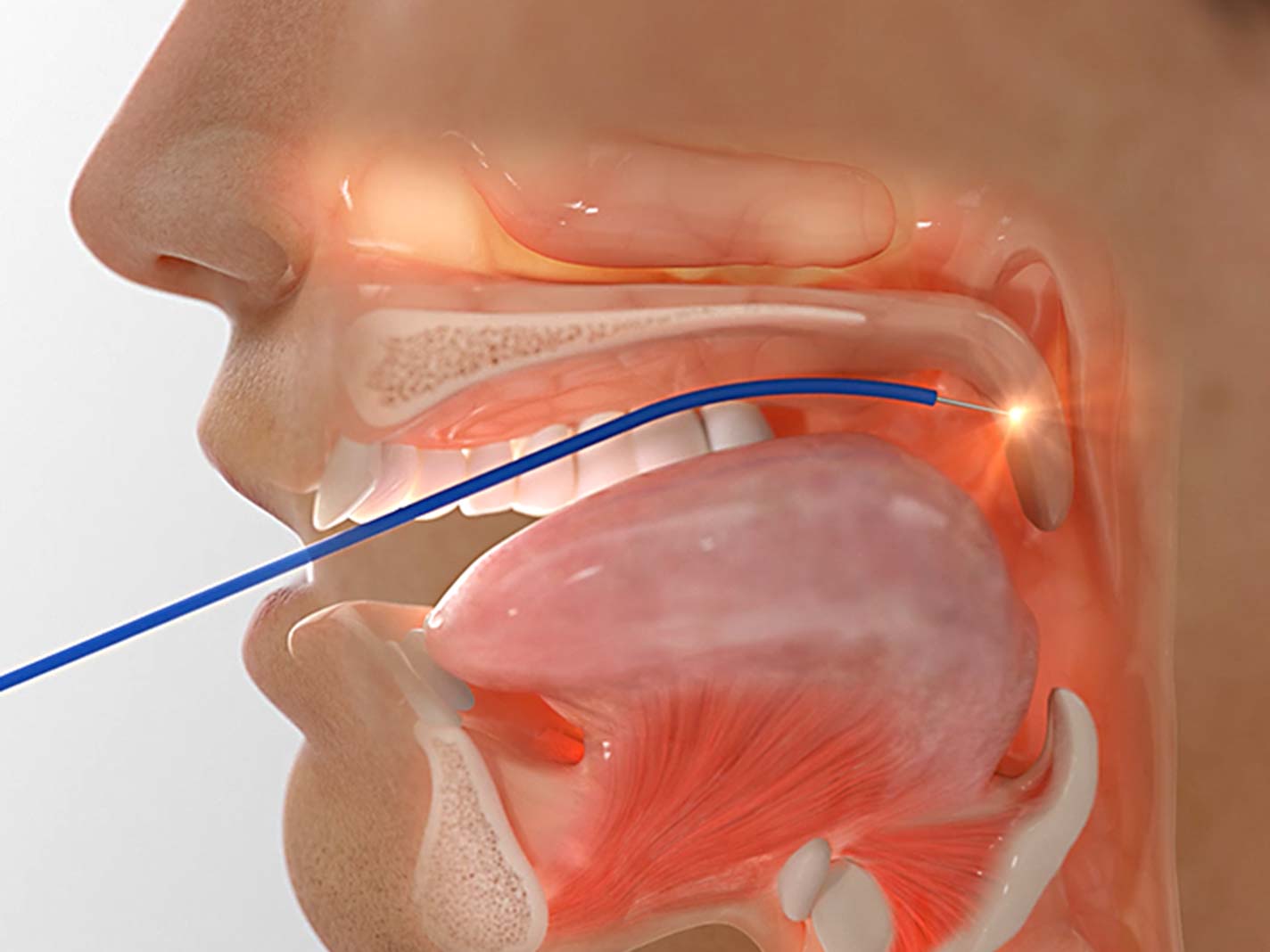 Surgery is usually an option after other treatments have failed. Examples include tissue or tonsil removal.
Simple, effective & painless
NMES physiologically retrains the upper airway and tongue, to stay in its natural position while you sleep.
SNORING &
UARS

MILD
OSA

MODERATE
OSA

SEVERE
OSA

MRD

CPAP

NMES

Surgery

Implantables
eXciteOSA For Sleep Apnoea – A Daytime Therapy
Neuromuscular electrical stimulation (NMES) with eXciteOSA®
NMES safely activates nerves and trains muscles. NMES is a familiar and well-established technique in medicine and athletics.
Sleep apnoea often has multiple causes. A common cause is the tongue and the upper airway muscles. Aging, diet, and other contributors can lead to neuromuscular degeneration in these areas resulting in OSA.
eXciteOSA for sleep apnoea changes this. It trains your tongue and upper airway muscles to have the stamina to stay in position all night long, letting you sleep soundly.
NMES

(eXciteOSA®)

MAD / CPAP

SURGERY

Treats a root cause of snoring
Nothing to wear at night
Evidence based
Low cost trial period
Helps your body to help itself
Oral Dental Devices (MRD/MAD) require you to wear something at night and effectively splint your airway open by moving the tongue forward and out the way. Surgery can also be an option. eXciteOSA for Sleep Apnoea is a daytime therapy.
Convenient daytime therapy
Comfortable and painless leaving you with nothing to wear at night.
Reduces Apnoea's
Published studies show a reduction of 52% in AHI and 45% in ODI – All without a CPAP or MRD.
Retrains the upper airway
Physiologically retrains the upper airway. No other device currently on the market does that.
Use the app to control the intensity of the stimulation and get guidance, reminders and notifications about your therapy.
Pay later with Klarna & Paypal Paylater
Spread payments over 6, 12, 24 or 36 months with (Klarna) or split by 3 months (Paypal Paylater)
The Klarna and Paypal Paylater options will appear after entering your details via checkout.
Hear how eXciteOSA® has transformed peoples sleep
"I have this simple device… [that] I use during the day [so] that I can sleep quite happily without thinking about having to wear a mask at night."
Find a Therapy That Works for You
OSA can be a progressive disease and should be treated and treated early
With new alternatives available, like daytime therapy, there is now no excuse. Consult your physician as, if left untreated, OSA places extra strain on your health.
of patients with mild OSA
have Hypertension
4
increase risk of
heart failure
5
increased risk
of Dementia
Try today with our sleep guarantee*
Use for just 20 minutes a day, every day for six weeks, to help maximise long term results.
Backed by leading sleep specialists
"We believe that eXciteOSA® therapy will be able to help many patients in the near future."
Specialist in ORL at Dr. Peset University Hospital, Valencia, Spain
Expert in Sleep Medicine
President of the Commission on Roncopathy and Sleep Apnoea of the Spanish Society of Otolaryngology and Head and Neck Surgery
"I am optimistic that this treatment will be an important treatment approach for patients with with mild sleep apnea and snoring."
M.D. Research Chief, Pulmonary, Critical Care and Sleep Medicine
Peter C. Farrell Presidential Chair and Professor in Respiratory Medicine
Former President, American Thoracic Society 2015- 2016
Frequently asked questions
Transcutaneous Electrical Nerve Stimulation (TENS) machines stimulate the nerves exclusively for the purpose of relieving pain.
Neuromuscular electrical stimulation (NMES) produces regular contractions of muscles and produces changes in blood flow, activated nerves, and muscle [fibers], which may increase the health of the target muscle and surrounding soft tissues. Definition from the Handbook of Clinical Neurology, 2012
eXciteOSA® is a user-controllable neuromuscular electrical stimulator (NMES) that delivers a mild electrical current with defined frequencies to stimulate and improve muscle function in the mouth and tongue.
Unlike traditional sleep apnoea treatments, eXciteOSA® strengthens tongue and throat muscle tone, to prevent excessive muscle relaxation during sleep, reducing airway collapse and therefore reducing OSA.
A daytime therapy with no night-time wearable necessary for a better night's sleep.
There are 4 common types of clinically proven treatments for snoring, each with the goal of opening or freeing your airway.
Mandibular (jaw) Advancement Device works by temporarily moving the jaw forward and the tongue goes with it, creating space at the back of your throat to help you breathe. CPAP on the other hand delivers positive pressure to open up your airway.
Surgery is usually an option after other treatments have failed. Examples include tissue or tonsil removal, again, with the intention of creating space. Alternatively, there are now implantable devices that, when switched on, apply gentle stimulation to key airway muscles during sleep, allowing you to breathe normally. This treatment is normally reserved for severe patients who have refused or do not tolerate CPAP.
NMES physiologically retrains the upper airway and tongue to maintain the tongue's natural position while you sleep, effectively helping your body help itself. eXciteOSA For Sleep Apnoea is the only device that delivers NMES. You can also refer to the chart above to better illustrate the main difference.
Speak to an expert
Speak to one of our patient advocates for a no-obligation discussion around your needs for a better night's sleep.
Risk-free trial
* Terms and Conditions of the Sleep Guarantee: You must start using the exciteOSA For Sleep Apnoea within 1 x calendar week of receiving your eXciteOSA. For optimal results, you should use it every day for 6 weeks. However, we know that we are all only human and people forget things – so we ask that you use it for a total of 6 weeks (a total of 42 days) within an 8 week period (56 days). A session is equivalent to 20 minutes. In addition, it is recommended that you increase the therapy intensity gradually over the treatment period to ensure that you give the treatment every chance of being effective. Please note that once the initial therapy is finished and to maintain the treatment you need to use the device at least twice a week forever.
The mouthpiece is a precision piece of engineering responsible for delivering neuromuscular electrical stimulation targeted primarily at the tongue. It needs to be replaced every 3 months and therefore will not be refunded as part of the 'try before you buy offer'. We will deduct £54 + VAT from the final refund amount. Signifier will send you a return label for the device to be returned. Please contact Signifier Medical to arrange this.
References
Kotecha, B., Wong, P.Y., Zhang, H. et al. A novel intraoral neuromuscular stimulation device for treating sleep-disordered breathing. Sleep and Breathing (2021). https://doi.org/10.1007/s11325-021-02355-7
Baptista et al. Daytime Neuromuscular Electrical Therapy of Tongue Muscles in Improving Snoring. Journal of Clinical Medicine (2021)
Carvalho B, Hsia J, Capasso R. Surgical therapy of obstructive sleep apnea: a review. Neurotherapeutics. 2012;9(4):710-716. doi:10.1007/s13311-012-0141-x
Ahmad, M., Makati, D., & Akbar, S. (2017). Review of and Updates on Hypertension in Obstructive Sleep Apnea. International journal of hypertension, 2017, 1848375. https://doi.org/10.1155/2017/1848375
Jean-Louis G, Zizi F, Clark LT, Brown CD, McFarlane SI. Obstructive sleep apnea and cardiovascular disease: role of the metabolic syndrome and its components. J Clin Sleep Med. 2008;4(3):261-272.